Painting Sash Windows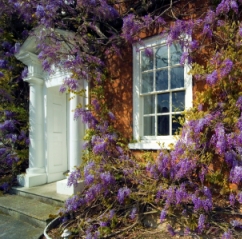 The painting of a sash window calls for the expertise of a highly skilled decorator with experience in sash windows. It is a specialist job, due to the intricacies of sash windows, for example the hard to get to small areas of timber, and the inner sash obstructing the outer sash. As with every decorating job, sash windows need impeccable preparation, due to their tight fittings. Plus, if you've had your sash windows draught proofed, then it's very important not to get paint on the draught proofing brush piles, machined into the staff beads, parting beads and timber sections of the top and bottom sashes.
We work closely with a Sash window Repair specialist, who specialize in draught proofing and the restoration of sash windows.
Sash windows have been a very popular choice for British windows for centuries, as they're great at preventing rain from seeping in and great for ventilation. This doesn't mean that they are drafty. As they have the advantage of allowing the top and bottom sash to be easily moved up and down this enables you ventilation to work well. Plus, sash windows are less susceptible to rot and distortion than hinged casement windows.
Most Estate Agents would agree that by retaining and restoring original sash windows, you'll be adding value to your home.