Our Testimonals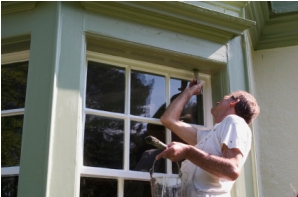 "I would like to take this opportunity to say that I couldn't have been happier with your team of men and yourself.
Decorating in ones home can be a very stressful time whilst living threw the process but I found with your company that the men arrived every day on time did a good full days work and were very polite.
The quality of the work has be superb you are a true perfectionist and I would be pleased to recommend you to anyone.
I have already had friends passing comments about what a good job you have done and I look forward to having you do more work for me in the future in the meantime should any of your prospective clients want an opinion I'm more than happy to talk to them.
Once again thanks for making what good have been a very stressful time so much easier."
All the best
Ian G Warwick
"I can not recommend Eva and her team of decorators more highly. They worked on every surface of my new house from top to bottom over a number of months.
The conditions were not easy as they worked alongside less than organised builders - their good humour and professional approach drove the job forward at pace without letting standards drop for a second. I am thrilled with the result."
Vanessa Branson
"Thanks so much for the terrific job painting the whole of the outside of my Georgian cottage. Chris and Matthew couldn't have been more diligent, careful and tidy: from preparing the walls; sanding and filling cracks and blemishes where needed; rubbing down the railings; preparing the doors; through to the painting itself.
I especially appreciated how painstaking they were when painting my sash windows and my front door. They arrived punctually every day and took great care tidying up every evening before leaving.
The whole house looks and feels completely refreshed. So much so that both my neighbours have asked for your contact details - proof (not that it was needed) of what a great job you've done! Thanks too for coming by regularly to check that everything was progressing smoothly; I couldn't have wished for a more delightful and stress-free experience."
Mark Lee
"We, the directors of Inchmap Ltd would like to thank you for the splendid work your team have done in painting the interior, communal parts of the house.
They caused the minimum of trouble & were unfailingly polite. We shall certainly hope to use your firm again. The lift is an especial joy!"
Elizabeth, Angus, Julian, Bryanston Square W1H
"We have recomended and worked alongside Eva and her great great team for many years. The standard of work on every job undertaken by Eva´s company, has always been to the highest level of workmanship."
"I would not hesitate to recommend Eva and her team. They painted all of my flat: the work was perfect and finished on time. Eva was extremely professional and involved in the whole process.
She understood my requirements, was easy to deal with and made sure the standard was upheld at all times. Workers arrived on time and finished the job within the time frame agreed.
I could not be happier with the result, or recommend Eva more highly."
Elisabeth, SW10
"Eva and her team did an excellent job decorating a refurbishment project done in Holland Park. She managed her team, and worked well with the other trades on site.
She provided excellent quality control, and her finished work was to a high standard.
Eva and her team were well organised, punctual, and super-tidy, while showing great attention to detail throughout the decoration stage of our project. I recommend Eva and her team to anyone looking for a high standard of decorating work."
Quinn McGovern Project Manager
"I want to thank you for another job well done and to say that Maciek did a very nice job and as before it was a pleasure to work with your company.
Your men are polite and thoughtful, arrive on time, work hard, and do an excellent job. This time he was especially careful with the dust as I was concerned about the books at the other end of the drawing room getting dirty. There was very little mess at all as he vacuumed regularly while he was working and kept the dust under control.
I am very pleased with the finished room and I look forward to working with you again."
Mrs. S.H Cavanaugh, Notting Hill
"Eva runs an extremely professional decorating service providing first class results at competitive prices. Each job is comprehensively assessed and precisely costed.
Her team work with thoroughness and attention to detail.They are polite and keep disruption to a minimum.
The quality of work of Eva's company sets it apart from competitors."
Highly recommended.
David & Louise, Wandsworth
"The decorating was done quickly and efficiently with minimum disruption to the house. I can highly recommend Eva and her team."
Paula, W4
"The work of Eva and her team is always of a very high standard, with excellent attention to detail. Jobs are reasonably priced, start and finish, on schedule. The decorators are punctual, hard working and pleasant to have around."
Dorcas, Primrose Hill NW3.
"Eva is great. Her workmanship and that of her team is superb. Reliable,efficient, excellent - tidy, clean and courteous. This is the best work I have experienced. I thoroughly recommend."
Susie, Fulham SW6
"A perfect job, done with care for the quality of the work and for my home. Flexible and reliable. I wouldn't hesitate to use Eva and her team again."
Katie, London NW11
"We wouldn't hesitate to recommend Eva. The work was carried out to a high standard by a team who were prompt and polite."
Dartmill Limited
"We recently had Decorators West London carry out some redecorating to the inside & outside of our property in West London. We have been delighted by Eva's company and Maciek's work - from the response to the enquiry, site visit and quotation, to the excellent standard of work and reliability of Maciek. Not only was it efficient, free of fuss, well prepared and completed with care and professionalism - it all looks great! Thanks to Eva and Maciek we will be repeat customers and we would not hesitate to recommend them to others."
Regards Martin, W6
"Great job done by Decorators West London Ltd - professional, no mess and quality finish all done by a very polite decorator."
Kevin, London, W1U
"We are so pleased we used Decorators West London to redecorate our apartment. They were extremely punctual, efficient and courteous. The decorating is faultless and they completed the job early. They are totally trustworthy as we left them in the apartment to do the work and we highly recommend this friendly and professional firm."
Kath & Kate, Bayswater
"I employed Eva Petersen to do some decorating work for me in 2015 when I moved into my new apartment. She came highly recommended by a friend who had recently had work done and spoke very highly of her.
The work she did was on time and the team she sent were a pleasure to have around. They were self contained, clean and well organized workers. The standard of their work was exceptional.
She was always professional and finished on time and on budget.
I would have absolutely no problem with recommending her to anyone."
Mrs Magdeleine Kendall, King Henrys Road, NW3
"Eva was excellent, the job was done perfectly from start to finish. Highly professional and a very nice person as well. I would certainly recommend."
Adrian, Trellick Tower, W10